Surveys show almost half of Italians favour leaving the EU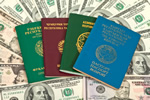 For those Brits looking to move to Italy before Brexit kicks in, the bad news may well be that Italians are demanding their own version of Brexit!
Italian citizens are furious the EU didn't step in with assistance when the pandemic arrived, even although it was obvious the government was struggling with the speed of the spread. In the north of the country around Lombardy, the virus took hold early in February, with the economic effect of the crisis now only too obvious. As a result, support in the country is now rising in favour of Italy's total independence from the European Union, with almost half of respondents to a recent survey saying they want to break ties with the EU.
At the time, EU finance ministers had put in place a 500 billion euro bail-out for countries affected by the pandemic, but the package didn't include the joint debt to finance recovery favoured by Italy, Spain and France. Against the move were Finland, Austria, the Netherlands and Germany, leaving Italy with no financial help. As a result, Italian euro-skepticism reached its highest point yet, with a second survey also showing a fine line between those who'd vote leave and those who'd rather the country stayed as an EU member state.
The current situation vis-à-vis the pandemic could, according to experts, cause the triggering of Italy's version of Brexit and possibly fuel a wholesale rejection of the EU across its member states. According to the Italian PM, should its member states not pull together to defeat the pandemic and protect their economies, the existence of the EU itself could well be at stake.
He told reporters he believes money policies on their own wouldn't be sufficient to resolve the situation, adding the only solution is to open up the European Stability Mechanism and its credit lines to all EU member states in order to help them in the fight to defeat the economic consequences of the pandemic. For Brits who've decided to expatriate to the country in the hope of preserving their right to free movement, watching this space in international and local media might prevent an unwise decision as regards a new home from home.