Expats find peace in the covid-19 refuge of Dahab town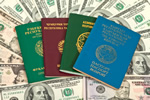 If you've had enough of the coronavirus, world politics and lockdowns and just want out, the Egyptian resort town of Dahab might be just what you need.
Set on the Red Sea and overshadowed by the mountains of the Sinai, Dahab is enough of a surprise to first-time visitors to encourage many to make it their home after one short visit. The resort town is set an hour's drive from Sharm El Sheikh, and started life as a small, traditional Bedouin fishing village. It's now a premium dive resort as well as a hub for nature lovers and, recently, it's become a refuge from the coronavirus in Egypt's big cities.
In spite of its new-found fame, it's still affordable as regards accommodation, eating out and the cost of living in general, with its expat community a multicultural mix of international expats, local Bedouins and Egyptians fleeing the big cities for a more cultural lifestyle. The Red Sea is the main attraction for divers, kite surfers and windsurfers, and its internet access is rare in the region, thus attracting digital nomads from across Europe and the USA.
In these troubled times, it's also a haven for Cairo residents who've had enough of attempting to socially distance themselves in one of the planet's most crowded cities – Cairo. At the present time, Dahab has no coronavirus cases, although some believe this may be down to a lack of testing. For expats who've fled to the town from Cairo, the psychological toll of the pandemic is much reduced as it's not often the subject of conversation.
For newly-arrived expats, there's much to see in the surrounding area, including St Catherine town, home to the world's most ancient monastery, and Mount Sinai itself, the traditional site where Moses was given the Ten Commandments as described in the Book of Exodus.