Tips on integrating for newly-arrived expats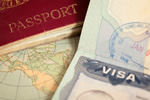 How many would-be expats realise integration is a huge part of the puzzle of being a foreigner in a strange land?
Perhaps one of the first things newly-arrived expats do is to make contact with the nearest expat group, not realising that they're simply exchanging their old life with its local, mostly warmer equivalent. It's an understandable reaction, as it mitigates the 'strangeness' of the new location and new arrivals can get much needed, reliable information as to making their move a success. It's reckoned that the majority of expats choose to live in gated communities rather than choosing homes in local villages or towns, but this isn't helpful if the goal is to interact with local people and form friendships.
Yes, this goal involves the dreaded necessity of learning a new language, but would-be expats knew this even before they stepped on the plane. American and Brit expats are the worst as regards facing up to becoming bilingual, but if you're serious about integration it's an absolute necessity. Another task essential to integration is to shop locally rather than hitting the nearest supermarket stocking the familiar ingredients and household necessities you used in the home country. Firstly, you'll pay up for imported goods and, secondly, you'll pay far more for local produce than you would in your local market.
Cooking local dishes also helps with integration, as you've to ask a neighbour the best way not to ruin your next meal! Volunteering and teaching once you're settled in and have some idea of the local lingo are both great ways to integrate into your new world. Native English speakers are always welcome, although it may be necessary to get a work visa, and volunteering at an animal shelter or orphanage is as rewarding as it ever gets. Joining a club such as the local Rotary group allows you to meet up with new friends as well as being useful to the local community and, for those wishing to open a small business, the contacts can be more than helpful.