Portugal now favourite for expat retirement and small business startups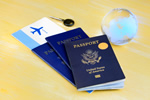 For many years, Portugal's Algarve region was a well-kept secret for its inexpensive, quality lifestyle for British retirees.
Since the debut online of websites comparing the many elements of a successful expat lifestyle, both expat retirees and those looking to start their own small businesses in a country with a low cost of living and great weather are heading for Portugal. In addition and put simply, it isn't a Spanish Costa with endless bars, fish and chips on tap and drunken tourists on all-night raves.
This picturesque country and its fascinating history and heritage is within a two-hour flight from all major European cities, but it's a world away from being a hub for the type of behaviour considered the norm in Spanish beachside locations. Portugal's warm climate, miles of sandy beaches bereft of crowds and its café lifestyle are now well-known as the perfect retirement destination.
The Portuguese people are friendly and warm, welcoming expat newcomers and helping them settle in. Many speak fluent English, a great relief to those Brits who've attempted to learn Portuguese without realising it's one of the planet's most tricky languages. The Algarve is a favourite for its glorious beaches, pretty coves, quaint shops, colourful villages and charming small towns, and the golf courses are much appreciated by the expat community.
Importantly, the cost of living is still favourable for those on the none-too-generous British old age pension, and property is still inexpensive away from the major cities. For those wishing to get away from it all, heading into the back country with its glorious scenery, traditional villages and rural lifestyle ensures a peaceful, quiet and very rewarding retirement. For younger expats looking for work, the IT sector is buzzing and innovative, and five-year residency visas leading to a permanent, long-term legal stay can be had on arrival.