Taking your much-loved family pet to or from the EU post-Brexit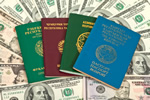 Brexit mean no more EU Pet Passports.
Whether you're chancing your luck and going ahead with plans to leave the UK for Europe or reluctantly leaving your retirement hub for the UK, taking the family pet along is about to become far more complicated. One of the worst effects of Brexit for expats whose pets are their best friends is the ending of the EU's eminently convenient and sensible pet passport scheme. For many British expats, their dogs or cats are their beloved best friends, and leaving them behind is not an option.
Even now, for those would-be expats already committed to leaving the UK for Europe after 29 March and before the end of May, in the case of a no-deal Brexit it's far too late to take all the necessary steps ensuring your pet comes too. The protocol will take around four months, starting with microchipping and anti-rabies inoculation and your vet taking a blood sample 30 days after the jab. The sample is sent to a laboratory approved by the EU in order to prove the vaccine has taken hold. Pet owners then need to wait three months from the date the blood sample was taken before they can bring their pets into a EU member state. Provided the sample was approved, pets must also be taken to a registered veterinary within ten days of the date of travel in order to get a health certificate.
On arrival in the EU, pet owners are forced to enter via a dedicated Point of Entry, and may have to provide proof of the rabies vaccination, the microchip and the result of the blood test as well as the pet's health certificate. Pets who've already been vaccinated against rabies and had the required booster need not repeat the blood test procedure, but a new health certificate will be necessary for each EU trip. If you're an expat repatriating to the UK with your pet after a no-deal Brexit, you'll need the existing pet passport, the health certificate used to travel to the EU and a new UK pet health certificate entitling your pet to travel to the UK. The only good news in this is that, should your pet have an EU pet passport issued outside the UK, you can just bring your best friend in. The above is how it stands at this point of time, but pet owners planning to travel should keep up with any further developments via the internet.