Statistics show fewer Brits heading for retirement in Europe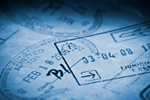 Statistics are showing a sharp decrease in the numbers of Brit retirees abandoning the home country and setting up in European destinations.
According to statistics recently released by the Office of National Statistics, the number of British state pensioners drawing their pensions whilst living in one of the major European retirement destinations is now showing a steady decline. Until the 2008 financial crash, figures from Germany, Spain, Italy and France were increasing year-on-year, but by 2010 growth was just 4.8 per cent and 2016's figures revealed an increase of only 0.9 per cent. The result of June 2016's Brexit referendum is expected to plunge the most recent figures well into negative territory.
Even although the Brexit threat seems to have persuaded a good number of would-be expat retirees to bring forward their plans in the hope their rights in their new country will be grandfathered, the sharp decline in the value of sterling may well be discouraging many more from taking the chance. The loss of EU rights is a further disincentive for those still in the 'shall I, shan't I' mode of indecision. One thing's for certain, the type of deal Britain ends up with will be reflected in the numbers of those leaving.
Spain will be especially hard hit should the numbers of newly-arriving expat retirees shrink to a trickle, as its real estate market is only now recovering from its 2008 slump. Also at risk are the millions of small businesses locked into the expat market, many of which are owned and run by British expats. Should the Brexit-induced concerns of low-cost airlines come to fruition and the numbers of British holidaymakers slow by half or more, Spanish tax revenues as well as livelihoods will be at risk.