Expats heading to Prague urged to avoid dodgy landlords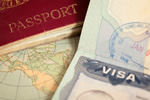 Expat entrepreneurs heading for Prague need to watch out for dodgy landlords and their sneaky tricks.
Even for those who never sign anything without examining the small print with a magnifying glass, Prague landlords need close surveillance! Stories of locals as well as expats being scammed by lowlife landlords are part of Prague's legends, with newcomers especially warned to take great care before signing on.
One of the worst and definitely dirtiest scams perpetrated on unsuspecting expats is the presentation of a totally unfair rental contract, especially if the document is a translation from Czech to English. The only way to ensure that what you're reading is a true translation from the original is to have a bilingual friend or trustworthy lawyer check it out. One very important right prevents landlords from evicting their tenants if and when it suits them, as the contract must either come to its stated end or three months' written notice to leave must be given.
Other well-known scams include overcharging for electricity and other necessary utilities, simply by insisting payment is made directly to the landlord. The way around this common trick is to insist all utilities are in your name and the bills are sent to your address. Another scam is failing to return your deposit when your rental contract ends, using excuses such as damage to contents. Getting around this is straightforward in that detailed photos of your accommodation can be taken and stored on your smartphone, thus proving any problems were there at the time of renting. Normal wear and tear is not your liability.
Raising your rent over and above the permitted amount is another popular trick used by dodgy landlords, all of whom assume expat tenants have no idea about the republic's laws. Rental charges cannot be raised by more than 20 per cent over a period of three years, and any new charges only take effect three months after they've been announced.