Expats heading for Oz take advantage of slashed rents and rent-free periods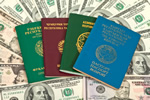 If you're considering giving Australia a try as your expatriation haven, now's the time.
Many would-be expats see Australia as the perfect destination for a new job, a start-up business or a comfortable retirement, even although the country as a whole and its cities in particular are known to be very expensive as regards day-to-day living costs. Although the present conditions as regards the coronavirus epidemic are both tragic and challenging, incomers looking for affordable accommodation may well benefit from others' misfortunes.
Unsurprisingly, the pandemic has already spiked an economic downturn, especially in Oz's huge cities, with landlords feeling the pain of losing the majority of tenants due to their either moving back to the home country or saving money by moving in with their parents. Businesses are shedding employees like cashmere sweaters in a heatwave, and the exodus of expat workers is growing by the day.
According to leading real estate agencies in Sydney, the exodus is responsible for a 300 per cent rise in vacant apartments over the past four weeks, with Brisbane suffering the same effects. For buy-to-let property investors it's the worst news, but for newly-arrived expat professionals it's a gift, as many landlords are now offering free rentals for a period of time or huge discounts for the next six months.
Professionals in the sector believe vacancy has been the highest expense for businesses during the pandemic to date, with rental property listings being honest about the reasons for stunning discounts. Managing agents agree, adding that landlords would rather take half the rent or even none for a short period rather than seeing their properties standing vacant for an unscheduled amount of time.
Melbourne landlords are in the same position, igniting a scramble to offer the best discounts and free rentals in the hope the pandemic will run its course before they're forced into selling their properties at an even larger discount.