High tax rates forcing young Irish professionals to emigrate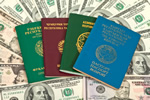 The Irish junior finance minister is blaming the exodus of young professionals on the country's high tax rate.
Brian Hayes, Ireland's junior finance minister, is demanding a cut to the rate of income tax, to be spread over the next two budgets. In a recent speech, he said that the current tax rate is punishingly high on modest wages and is driving even more newly-qualified young professionals to leave the country in search of a new life.
Hayes's comment came shortly after the government announced it's planning to raise the threshold at which the higher rate of tax becomes payable. Recent confirmation that the coalition government is against wage increases and in favour of tax cuts has caused union leaders to attack ministers they consider responsible for the position..
Jack O'Connor, president of the SIPTU, urged last month that the only way to spark economic momentum in the country was to agree to higher wages across the board, although a number of government ministers are in direct disagreement with pay increases. Hayes, however, believes that the October budget should benefit those on the higher rate of tax in order to keep much-needed professionals in the country.
Ireland's marginal tax rate for those earning over €32,800 is set at 52 per cent and is certainly a factor in the loss of young professionals to emigration. Ireland's trade unions have been demanding economic stimulus measures, believing that the fairest way to achieve this is by a tax cut.
According to Hayes, supporting jobs and job creation must be a high priority, along with easing the tax burden at middle-income level. He believes that allowing citizens to keep more of their hard-earned money encourages consumption and results in more employment opportunities.