Skilled expat professionals urged to consider Abu Dhabi as home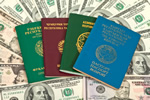 Given the vast number of expats who're either fleeing or being thrown out of many Gulf States, Abu Dhabi would seem to be moving in the opposite direction.
A recent article in a highly respected US online newspaper is claiming the emirate is now aiming to attract skilled expat professionals by lowering their costs of living. Admittedly over the past six months and more, its GDP has been hard hit by not only the oil price crash but also the coronavirus pandemic, but is an attempt to restart a damaged economy by opening up to expat tech entrepreneurs and companies a practical response?
The UAE's economy is projected to shrink by as much as 4 per cent over the rest of this year, before gently rebounding to growth in 2021, but spending shrinking funds on startup investments, attempting to attract tech companies and investing in strategic industries are all late-in-the-day strategies. Lowering the relative cost of living in the emirate is a practical idea, but a scheme which even encourages retirees to choose the emirate would seem to go against the flow of the rest of the Middle Eastern economies
At the present time, Abu Dhabi is rated as 39th in the world as regards its cost of living, but a miracle will be needed as regards governmental studies on housing, entertainment and general living costs. Many expats in the overall region have already left, citing lost jobs and basic economic insecurity as the reasons. Experts believe the UAE will lose almost a million more jobs, resulting in at least 10 per cent of its remaining expats heading for the first planes out.
Sadly, the coronavirus has decimated the tourism sector, harmed trade and brought aviation to a standstill, and the anticipated world recession hasn't yet hit. For expats who consider the UAE their home and simply don't want to leave, the measures being considered by the emirate's governing body may well encourage them to stay, but all now depends on the worldwide attack on the pandemic. Until it's defeated or a successful vaccine is created, the instability and fear it's caused may well result in the failure of worldwide measures to stimulate failing economies.