Saudi extends visas and permits of expat professionals trapped overseas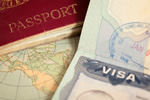 With the intention of mitigating the effects on the Kingdom's economy of the coronavirus, Saudi Arabia is now extending expat visas, work permits and residency permits.
Yesterday, a spokesperson for Saudi Arabia's Ministry of the Interior announced the Kingdom will grant extensions of expired residency permits, work permits and visas for those expatriates who're at present trapped overseas due to the pandemic. The move is part of a strategy aimed at mitigating the effect of the covid-19 crisis on the country's shaky economy and is also expected to show support for the private sector and its employers. However, at the present time, the kingdom's move to reduce its high numbers of expatriate workers is still ongoing, with some 1.2 million already forced out of the region.
Meanwhile in Kuwait, more than 1.5 million foreign workers are expected to be forced to leave over the next six months, mainly due to government policies prioritising jobs for nationals. In addition, many expatriates living and working in the emirate are seeing the writing on the wall as regards a combination of the national attitude and the effects of the pandemic and taking their own decisions to find jobs elsewhere or repatriate to the home country. The latest threat to expats came last month, when the municipality announced a decision to replace all expat-held positions with Kuwaiti citizens.
According to local news, tough new regulations based on expats' skill sets are to be brought in as part of a shake-up of the residency law. The move is expected to limit the numbers of expat appointees, and is likely to not sit well with employers whose companies are branches of international businesses.