BBC investigation uncovers more large scale student visa immigration fraud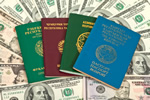 An investigation by the BBC's flagship Panorama documentary programme has identified systemic immigration fraud related to the government's Tier 4 Student Visa scheme.
Over 200,000 student visas are approved annually, along with a further 100,000 extension to those already studying at British universities and colleges.Qualifications for Tier 4 visas are relatively stringent, and include a verbal and written English test, a 200-question multiple choice test, relevant academic qualifications, adequate support funds and sponsorship by a recognised UK academic institution.
Panorama infiltrated a number of immigration consultancies by sending in bona-fide students posing as would-be clients. Consultants at the agencies were caught on camera and audio offering to substitute fluent English-speakers at the oral exam, giving out copies of answers to the multiple-choice exam and forging education certificates and bank statements.
The fake clients told agencies they wanted to apply for Tier 4 student visas, but had come to the UK to work full-time. They also admitted they did not possess the correct paperwork or support funds for the application and were told that, on production of £2,500, everything would be provided as described.
One consultant even boasted that he would hack into a bank's site and choose a customer with a similar name and healthy bank balance to be used as proof of support funds. Following the showing of the programme, the government has suspended all English language testing by educational testing company ETS as well as suspending its sponsorship licensing of several English language colleges.