New survey puts France at top of desirable emigration havens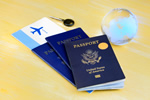 France has won top place in a recent survey for its unlimited attractions as an emigration destination.
Although would-be migrants could be forgiven for being confused over the vastly conflicting results of such surveys, real estate giants Rightmove Overseas rank France at the top of the long-term expat tree. The poll, published late last month, saw France leapfrog other favourite European destinations including Greece, Portugal, Italy and Cyprus, putting it in pole position for the first time.
Results suggest that closeness to family and friends still in the UK is a major reason for its success. An online company offering emigration guides found as long as a year ago that France was the subject of over a third of all enquiries received, and the numbers are increasing.
Since then, the exchange rate between sterling and the euro has weakened, making the country one of the cheapest in the EU for mortgages at the present time.With property prices also depressed, specialists in moving to France believe that conditions for British buyers are now very favourable.
The pretty, fully renovated character homes in many French villages are now at attractive prices, especially compared with London property in general, and for those looking for renovation properties the news is even better.Features such as beamed ceilings, polished wooden floors and stripped stone walls come as standard in many areas, as do countryside views, and a historic château can be had for the price of a three-bedroomed semi in inner London.