Elderly British expats in France fearing a no-deal Brexit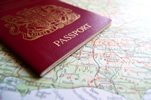 British expats in a Breton village are afraid of a no-deal Brexit.
The little French village of Gouarec's present-day population is just over 25 per cent British, many of whom are worried about the increasingly likely event of a no-deal Brexit in just over six months' time. This disaster scenario would likely mean their ability to access pension entitlements and healthcare would end, leaving them without any means of living their chosen lives as expatriates. Also, for those who decided to leave as a result, moving across borders would be far more difficult, trapping them in their present location.
One angry British expat who runs the local grocery store believes Johnson is a dictator rather than a leader, with his insistence that it's his way or no way not showing any concern for those whose lives will be wrecked should a no-deal exit from the EU be the final result of the 2016 referendum. He's not, she believes, thinking of the British people but only of his legacy. The store owner has already contacted suppliers in Ireland to ensure she's able to keep her customers happy in spite of possible border issues or import duties, and many of her elderly expat customers are worried about access to the French healthcare system after a no-deal crash out of the EU.
At the present time, long-stay expats in France are able to continue with healthcare cover, but a long-term solution has yet to be agreed. Another local British expat is selling her Brittany holiday home due to the uncertainty of any entitlement after the end of this year, telling a local media outlet it's breaking her heart but she feels she has no option under the present circumstances. She's an older retiree, and is afraid of having no health cover entitlement once the UK is no longer an EU member state.
Obviously, Boris Johnson has few friends in this peaceful corner of France, mostly due to his stubborn refusal to accept that, due to the coronavirus pandemic, a further extension of the Brexit negotiations is not just necessary, it's essential.