Oz to close offshore workers loophole by creating special visa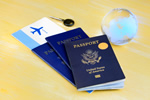 The Australian government has announced it will bring the country's offshore resources industry under Australian law by the creation of a designated offshore visa.
Brendan O'Connor, Minister for Immigration and Citizenship, announced that the Migration Act is to be extended, bringing all offshore employees under the law and requiring the new visas. The new rule will incorporate the entire offshore industry, including the Continental Shelf and the Exclusive Economic Zone.
Until now, overseas offshore workers were not required to apply for visas, but a court case brought last year exposed the anomaly. According to O'Connor, the offshore resources are governed by Australian law, meaning that the jobs should be subject to immigration law.
The new visa is expected to be passed by parliament and introduced next year, after consultations with employers and trade unions. O'Connor explained that it will give the flexibility the industry needs without undercutting Australian working conditions.
The proposal has already attracted criticism from the Australian Mines and Metals Association, (AMMA), which described it as a blow to an industry already troubled by unnecessary red tape, low productivity and escalating costs. The practicality if a visa for the short-term stints usual in offshore jobs has also been mentioned, with many overseas staff working for two weeks, then returning to their home countries for three weeks before their next two-week shift.