Australia cancels nine visa types and introduces four business visas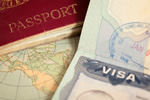 Australia's Department of Immigration and Citizenship has introduced five new visa categories to replace the nine which were closed earlier this year.
The first of the five new visa categories applies to those arriving in the country for medical treatment and is unlikely to be of any use to migrants unless they have chronic conditions and pots of money for private treatment. The remaining four new categories may help those wishing to research into setting up a business in the country.
The Temporary Work (short stay activity) visa is valid for six weeks only, and may be extended under special circumstances to six months. It will apply to those doing highly-specialised, short-term work, has a fee of A$145 and may open the door for more work for highly skilled individuals.
One of the Visitor Visa Subclass 60's four streams is aimed at business visitors who are not involved with any Australian company in any way. The application fee is A£115, and its usefulness seems a little confusing.
The strangely-named Electronic Travel Authority Subclass 601 visa is for business and other travellers who wish to make unlimited visits to the country over a 12-month period. There is no charge for applying, and the visa may be useful for people researching into business opportunities in various states.
The eVisitor Subclass 51 visa allows visits of up to three months in any 12 month period for business purposes, conference attendance, exploring business opportunities or negotiating, and also has a no-fee application process. However, it seems surplus to several of the other options.