Australians married to Thai wives denied access to repatriation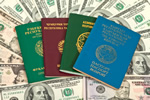 Australian spouses married to Thai women are being denied seats on repatriation flights from Oz to Thailand.
The controversy surrounding Thailand's decision to close its borders to all foreigners until further notice is hitting hard on Australian nationals married to Thai wives. Denied access to their homes and families in Thailand due to the lockdown, many expats are trapped in Australia and facing accommodation and financial crises. Oz expats holding the correct Thai visas were caught by the sudden cancellation of all flights and are now disallowed from buying tickets on any repatriation flight heading to Bangkok.
Obviously, those affected are angry and resentful as well as being worried about their wives and families back in Thailand. A notice from Canberra's Thai Embassy made it very clear that only Thai nationals will be allowed on the repatriation flights, specifically excluding foreigners including those with legal permanent residency or spousal visas. The same conditions will be levied on another repatriation flight due to leave the New Zealand capital of Auckland next Monday. In addition, the memo from the Thai embassy states those who do have a right to repatriation must pay the ticket price of $1,290, a charge some may well not be able to cover.
Those expats who do make it onto the flight will be forced to spent 14 days in quarantine at a government facility n Bangkok, even although cabin crews will wear full protective gear and be trained to monitor passengers for any sign of infection. In addition to expatriates, a large number of Thai nationals are also stranded overseas due to a total lack of flights. Many are students now unable to study as their schools and universities are closed down, with the likelihood of their not being able to afford repatriation causing stress and worry for their parents.
Given that the Thai government has to date been backward in coming forward with solutions to these dilemmas, it's anyone's guess as to what will happen as the lockdowns drag on and on.