Jarre joins list of French millionaires avoiding tax increases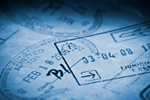 Famous French composer Jean-Michel Jarre is the latest French millionaire to flee his home country to avoid the recently announced swinging income tax increases.
Even although the French government has not yet passed into law the two-year temporary 75 per cent income tax level applicable to those earning over £850,000 a year, the list of French millionaires heading for the border is growing daily. Jean-Michel Jarre is the latest name on the list, after the news broke that he is in discussion with Downing Street over the relocation of his business to London.
Jarre, an icon of popular music and the owner of Jarre Technologies, a design and manufacturing company making parts for iPhones, iPads and iPods, is said to be planning to relocate to East London's new-build technology and media Tech City hub. Alain Affelou, owner of an international chain of opticians, is also intending to move his business empire to the UK along with its expansion plans.
At the front of the queue over a year ago was France's richest billionaire, Bernard Arnault, who decamped across the Belgian border to avoid the looming tax increases. He was recently followed by France's favourite movie star, Gerard Depardieu, whose departure to Belgium caused a media frenzy fuelled by accusative comments by French government officials and a furious public denial by Depardieu.
Last week, the French high court ruled the controversial tax increase was illegal due to its targeting individual earnings, but French PM Francois Hollande is adamant that he will fight the ruling in court and go ahead with the tax increases. Paris estate agents report the property market for luxury homes is in turmoil, with supply far exceeding demand as the ultra-rich rush to pack up and leave.