Renovating a historic home in Italy attracts expat tax breaks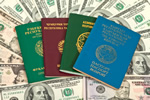 If you're taking on a job in Italy, paying tax and would love to get a quaint weekend or holiday home in the hills at a bargain price, this is for you.
There's been a lot online recently about properties in Italy needing total renovation and being sold for practically nothing as a result, but they rarely suit the needs of expats who've arrived in the country for work purposes. However much newcomers experienced in DIY would enjoy the challenge of recreating a historic house, there's simply never enough time.
However, for retirees or those hoping to start their own businesses after they've settled in, there's an option which could result in far less work and far more time to enjoy a traditional home at weekends or on holidays. Italy's real estate sector is now being dragged down by the high number of old homes in urban regions which need renovating and bringing up to modern standards rather than an almost complete rebuild.
Whilst they're not being practically given away, the price of such properties allows plenty of room for professional help with rewiring, plumbing and suchlike, leaving enough cash for those DIY basics and decorative touches which make a house a home. In addition, the Italian government is opening its purse strings for expats working and paying tax in the country who wish to purchase and renovate such properties using tax breaks as an incentive. The tax breaks apply to homes in zones A and B, both of which are urban areas with, for example. 50-65 per cent for energy renovation, 50 per cent for full renovations with a top price of €96,000 per property and another 50 per cent sales tax reduction for the purchase of energy-efficient home appliance purchases at costs of up to €10,000.
In addition, there's a green bonus on personal income tax for sustainable add-ons such as irrigation and green roofs, and restoring old facades, windows and balconies as well as installing thermal coating insulation attracts between 50 and 90 percent tax deductions. The packages are available to anyone who's a tax-paying resident, and can go a long way towards making the expat dream of a fully-renovated historic home a reality.