Local French communities mourning the Brexit loss of Brit expat councillors and voters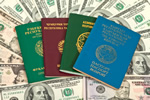 British expats living in Europe are still angry over losing their rights to vote along with their EU citizenship and freedom of movement.
As the entire world attempts to adjust to a seemingly never-ending 'new norm' due to the coronavirus pandemic, British expats living and working in EU member states are still trying to come to terms with what they'll be losing on the first day of 2021. Many decided to start their new lives overseas several decades ago and have been active in their local communities ever since, becoming local council members and helping shape the small towns, villages and boroughs they'd chosen for their new homes.
Although these British expats are proud of their success in shaping their lives as well as working on behalf of their local communities, from the first of January next year they'll have no voice as they'll no longer be EU citizens. One Scot living in a small village in Germany will be forced to cut short his third term as its mayor as well as losing his voting rights, leaving him with just memories of the many ways he'd helped his small community. Of course, he's lived outside the UK for far too long to be able to vote in any UK election, meaning he's totally disenfranchised in the two countries he's called home.
Claiming German citizenship won't help as it's a long-drawn out process with complicated requirements, with some who applied last year still not having received their paperwork. Whether British expats will have a voice in EU countries or not depends on their location with, for example, those in the Netherlands, Finland, Sweden, Denmark and two Slovakian cities won't be disenfranchised, although length of residency may be an issue.
Apparently, British negotiations with Portugal, Spain and Luxembourg as well as Ireland, Malta and Slovenia may mean Brits don't lose their local votes, but those in France are totally excluded unless they are French citizens. Some 757 British expatriates are serving right now on local French municipal councils, but next March's local elections will end their participation in the place they now call home. As in the UK, local councillors in France deal with the minutiae of local life such as road repairs and garbage collection as well as helping newly-arrived Britons adjust to their expatriate lives.
Their input is essential in smaller towns and villages with established expat communities, and will be sadly missed. One local French mayor told reporters the British contribution is a big loss to a locality reinvigorated by the arrival of expat retirees and workers, adding their losing of the vote and the chance to serve is an aberration.