China may relax its stringent rules on permanent residency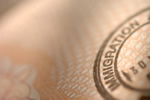 An announcement by the Chinese government's mouthpiece China News Service may mean expats living in China will be able to successfully apply for permanent residency.
The Chinese government is considering a widening of the expat pool of people eligible for the country's equivalent of America's Green Card. At the present time, it's believed that less than 5,000 foreigners resident in the country have permission to stay on a permanent basis.
Spokesperson for the Ministry of Public Security Qu Yunhai said on Sunday that many expats had urged the Chinese government to relax the strict rules on residency permits. According to Qu, as a result of the appeals the Ministry of Foreign Affairs and the Ministry of Public Security are cooperating in drawing up management plans to allow more permanent residents.
The result of the two ministries' determinations, he added, will be released in the near future and will impact strongly on green card application administration. China's green card system was introduced in 2004, although it's been of little use to foreigners without a Chinese family connection or spouse.
Candidates need to satisfy stringent criteria such as having an important job, investing large amounts in China or having made an outstanding contribution to the country. According to Gilbert van Kerckhove, a Belgian national who has lived in China for several decades, it's almost impossible for a Western national to get a green card under the present system.
Van Kerckhove has acted as a government advisor, has won awards for his contributions to the country and is married to a Chinese national, but only managed to get his permanent residency in 2008. Beijing claims green cards will be issued if a set of conditions is met but rarely actually grant one, although a grand total of 700 have been given out mostly to overseas-born Chinese or to foreign VIPs as prestige gifts.