Western expats in Cambodia watch in horror as China moves in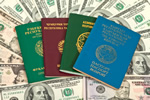 Where to go next as China continues its Cambodia takeover?
Once a favourite with Western expats sick and tired of Thailand's shifting immigration rules, Cambodia is now as close to a Chinese province as it's possible to get. The first target was the country's former favourite holiday destination of Sihanoukville, now a hotchpotch of casinos and designated as a vast international port on China's new Belt and Road. The coastal cities of Kep and Kampot, also popular with expats as a refuge from their former location's shambolic redevelopment, are next on the list.
The advertorials celebrating the Chinese takeover of Sihanoukville rave about five-star hotels, high end restaurants and shopping centres whilst its devastated local population attempts to adjust. Kampot and Kep provinces ae now home to expats on the run from Sihanoukville's rebuilding, with huge swathes of former rice paddies between Kep and the border now the site of equally massive Chinese developments. Some expats are posting the construction is so huge it's resembling entire cities, with the roads all but destroyed due to heavy earth-moving machinery and lorries.
Kampot is reeling under the changes, with a proposed 40-story shopping mall causing controversy within the former sleepy town's community. Expats who've moved to the region from either Thailand or Sihanoukville are now wondering where to go next. Rumour has it that the entire coastline is to become a massive port and special economic zone, destroying the mangrove forest and damaging the ecology of the entire coastline. The Cambodian local authority isn't best pleased, but can do nothing.
Elsewhere, Battambang province is being cited as the home of culture and community Chinese style, with the province's governor more than happy to let it happen. The aim is to attract huge numbers of Chinese tourists, all of whom will be encouraged to understand Cambodia's traditions and culture – none of which will be in evidence once the takeover is complete.