UK airports slammed for rip off currency exchange rates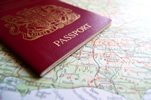 If you're about to jet off for a reconnaissance visit to your chosen work or retirement destination, you'll need to ensure you get the best currency exchange rate for your trip.
Currency exchange rates are often the last thing on the minds of would-be expats, especially if they're relocating for work purposes. Visiting your soon-to-be country of residence before your actual move can be a positive step towards integrating into your new life as it's easier to get a feel for a country and its culture before you're overcome by business demands. For retirees, it's the same, and gives more time to find the home of your dreams as well as to meet local people and discover the established expat community.
Buying local currency before your trip is good practice for your eventual move, with the same process applying to small amounts as to the hopefully far larger sums you'll be taking with you. Getting the best exchange rate can be tricky for newcomers to the game, but there's one route you should never take – buying your currency on arrival at your departure airport. Here's why – a recent media report claims bureaux de change at Heathrow and Gatwick airports charge exchange rates up to 15 per cent higher than can be had by using alternative suppliers.
The report revealed the total earned last year by currency exchange booths at both airports was an astonishing £75 million, but the companies concerned are blaming it on the cost of maintaining their businesses on the concourses. High rents charged by airport operators, security and high staff costs are quoted by the firms as justifying the rip-off rates, but an explanation as to why exchange rates are far more competitive if a customer pre-orders and picks up his foreign currency at the airport hasn't been given. When approached by the media, both airports declined to comment.
In the real world, there are a number of options for currency exchange at competitive rates, including secure online currency exchange websites which deliver your order to your door within two days, and even high street branches operated by the same firms as the airport bureaux give better rates than those available on the concourse. Unfortunately, your local friendly high street bank is not an option, again due to high rates of exchange.
If you're intending to transfer large amounts to your chosen destination at a later date, the best way forward is to create a relationship with a dedicated online currency exchange website and use it for all your transfers. The only downside may be a charge by your bank on your credit or debit card.