Airlines warning Brits not to book flights to Europe after March 2019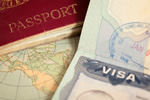 Britishers planning to travel to Europe after March 2019 can expect warnings from airlines that their flights may not be able to leave.
Airlines serving routes between the UK and Europe, American or other worldwide destinations are preparing website warnings stating tickets booked for flights after March 2019 might not be honoured. Every international destination covered by current EU regulations will be affected unless an agreement is reached during the Brexit negotiations. Compensation for the cost of tickets will be given, but extra coats incurred will not be met by the airlines.
The possibility of grounding all UK-originating flights to destinations covered by the EU Single European Sky regulations was first brought up by controversial Ryanair boss Michael O'Leary, but largely disregarded due to his reputation as a sensationalist. UK Chancellor Philip Hammond recently warned parliament all air traffic could theoretically shut down the day after the UK leaves the EU. One major problem is that an aviation deal abiding by certain rulings by the European Court of Justice may not be acceptable to the British government.
It's more than possible that business travellers will find a way around the issue should the worst scenario come to pass, but would-be expats timing their emigration to a post-Brexit date may need to rethink their leave dates well in advance, as might those leaving for already-arranged assignments overseas. Also affected with be expats who regularly travel back home to visit family, or those who need to return briefly for emergency reasons. The airlines concerned are taking an optimistic stance, but state they need to put protocols in place to cope with the worst scenario.
An announcement by Norwegian Airlines of the immediate cancellation of all its flights between Birmingham and five Spanish destinations as from last weekend may not be connected to Brexit, but is causing consternation amongst its regular passengers. The route served Grand Canaria, Barcelona, Malaga, Madrid and Tenerife, with the news following on American Airlines and United Airlines' cancellations of their New York flights from Birmingham.