Belize now attracting European expat retirees to its Caribbean shores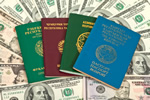 If white sand beaches, virgin rain forests and year-round sunshine are an essential requirement in your retirement strategy, Belize might be the perfect place.
Already popular with American retirees, the seductive beauty of Belize is now attracting an increasing number of European retirees looking to a Caribbean lifestyle as an antidote for years spent focusing on a career. It's not the world's cheapest retirement destination by far, but it's certainly one of the loveliest. Establishing residency is far easier than in many other countries, and everyone speaks the English language.
New arrivals are advised to rent a home rather than rushing into property ownership, especially if they're heading for well-known expat locations such as San Ignacio, Ambergris Caye and Corozal. Real estate agencies are found on every corner, but the best deals often arrive via word of mouth within the established expat community. Ambergris Cove is the most expensive location as regards rentals, but European expats on a budget will be more than happy with an affordable two-bedroomed home in Cayo at around $ 275 a month.
Whilst Belize's cost of living is relatively expensive compared with many Central American destinations, it offers the best value in the entire Caribbean, especially when new arrivals get to know local vendors and farmers. It's healthier as well, as the majority of locally-grown produce is genuinely organic. One thing to watch out for is the fact that real estate agents aren't regulated or even licensed, with unscrupulous agents common in Belize. Sellers aren't forced to disclose title or property defects, with consulting a lawyer about full title an absolute necessity. Also, requesting a survey before signing anything is advised.