Nine illegal migrants seen exiting truck at Essex shopping centre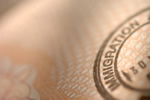 Nine illegal immigrants from Iraq and Iran were spotted getting out the back of a lorry at Lakeside Shopping Centre.
Essex Police filmed a seven-minute video of the group being assisted as they got out the back of the two-deck truck in one of the mall's carparks on 24 July.
Some of the migrants were seen trying to jump out the lorry while it was still moving, an incident that was also caught on camera, this time by a local resident of the area.
Around eight officers approached the lorry and arrested the nine men – seven of whom were from Iran and two from Iraq – and, after inspecting the vehicle for more migrants, took them to Grays Police Station before passing them on to the UK Border Force.
A spokeswoman for Essex Police said that officers were called to the road near Thurrock Services at around 7:00pm on 24 July after being informed that the men were trying to get out of a moving lorry. They then escorted the vehicle to the carpark, where they arrested the men inside.
She went on to say that the men were all between the ages of 16 and 31, and arrested on suspicion of being illegal migrants. She added that the driver was cautioned but not detained.