Portugal still welcoming expat retirees, investors and immigrants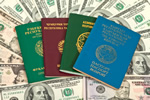 Whilst a number of other formerly popular expat destinations are slamming their doors to what they now seem to be viewing as a foreign invasion, Portugal's welcome mat is still firmly on its floor.
Well known for years as a refuge for expat retirees from the UK, Portugal is now doing its best to attract investors and long-term expat residents by positioning itself as a home from home with better weather, friendlier locals and a far safer environment for families, business people and older expats. The country's crime rate is the lowest out of all the EU member states and far lower than the UK's, with recent immigrants even arriving from Brazil, a land with one of the planet's highest murder rates. In addition, investors are now favouring Portugal for its open-minded stance on foreigners combined with its societal rejection of anti-immigrant sentiment, nationalism and populism, all of which now seem to be taking over many former favourite expatriate hubs.
The country's repudiation of discordant politics has encouraged social peace as well as enhancing its position as a suitable business environment offering an attractive quality of life to newcomers. Now recognised in a recent survey as the world's third most peaceful country, Portugal's declining indigenous population and dwindling birth rate mean it desperately needs immigrants and investors in order to combat its demographic crisis. According to its PM, who's recently urged the EU to get rid of xenophobia and populism, Portugal's growth rate needs to be above average for the Eurozone, making expats essential for its further development.
The word would seem to be getting around, as almost half a million foreign residents are now registered in the country, a 93,000 increase on previous years. Greenfield foreign direct investments also soared in 2018 to their highest level in 10 years, a 161 per cent improvement since 2015. The majority of new expat arrivals head for the Algarve, once the focus for UK retirees, but now a multinational mix of entrepreneurs and those seeking business opportunities in the hospitality and property sectors. The region is also attracting refugees from Trump's America, many of whom would have headed for the UK had it not been for the 2016 Brexit referendum result. The only fear for many new arrivals is that Portugal's massively increased popularity may be its undoing in the end, as mass tourism can bring with it increasing local resentment if it isn't controlled and handled in a sustainable fashion.