Canadian mother still fighting for visa for her husband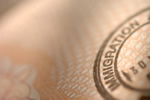 A Canadian-born resident legally married to her Indian husband is hoping against hope that he will be allowed to join her in time for the birth of their second child.
Harpreet Sandhu, born to Indian immigrant parents resident in the town of Surrey, met and married her husband in June 2010, and the couple immediately applied for his sponsorship-based permanent residency visa on the grounds of their marriage. However, their application was refused as Citizenship and Immigration believed the marriage to be one of convenience.
Appeal after appeal was mounted and refused, even after the couple's first child, a daughter, was born. Sadhu is now in the later states of pregnancy, with her second baby due in September and her hopes for her husband to be there slowly fading.
Sadhu and her daughter Kashvi are living with her parents in Surrey, and she is determined to keep up the fight to have her husband admitted to Canada, even taking her case to the Federal Court next month. She finds living as a single parent distressing, and spends around five months a year with her husband in India as a result.
To date, federal court and immigration lawyer costs are running at around CA$30,000, with immigration lawyer Mumtaz Khan saying that it's rare for a case to run for more than two years due to the costs involved. At this point, immigration is admitting that the marriage is genuine, but still refusing to let Sadhu's husband enter Canada to be with his wife.
Khan believes the problem is that the authorities are viewing the letter of lthe aw rather than its spirit, saying that Sadhu is Canadian-born, as is her daughter, and as her newborn baby will be. It's clear, he adds, that this in not a marriage undertaken simply for the purpose of acquiring a resident's visa.