Four out of every 10 British couples with children would consider emigrating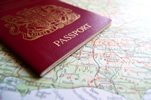 A new survey has revealed that almost half the parents polled would consider emigrating overseas if it benefitted family life and their children.
The hope that moving abroad would make the family unit closer was the main motivation for considering leaving the UK, cited by 53 per cent of would-be migrants. An improvement in the family's quality of life was cited by 67 per cent, with 59 per cent mentioning the benefits of experiencing a different culture.
Of those considering a move, 38 per cent felt that schooling was better overseas, and 22 per cent cited access to better healthcare for the family. The survey seems to suggest that the benefits to family life, health and wellbeing of emigrating overcome the trials of settling in a new country and are a powerful incentive to move.
The survey was commissioned by Lloyds Bank International, whose director Richard Musty believes that worries over cultural clashes, education and health may well have subsided over the part decade or so. He said the research clearly demonstrated that the motivations behind the desire to emigrate are very mixed, but are focusing on benefits for the whole family.
One British expat mother now living in Singapore stressed the need for research and preparation before taking the plunge, saying that a new country can be frightening and confusing to parents as much as for their children. Cultural, language and religious barriers are real and need to be overcome, she added.