EU Switzerland immigration row edges closer to solution on free movement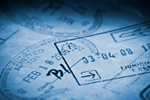 Following the shock result of the Swiss referendum on immigration and its denial of the EU directive of free movement, diplomats are hinting that a solution may be found.
The Swiss referendum approved the setting up of quotas restricting the number of immigrants allowed to enter the country, thus invalidating signed agreements on the EU's freedom of movement commitment. As a result, Switzerland's participation in EU education and research programmes was suspended, as were ongoing talks on free movement between EU states and the country, a major EU trading partner.
The dispute has been the subject of high-level meetings during April, and was expected to be settled by the end of the month. However, UK officials slowed the process by requesting extra time to study the European Union proposal, resulting in the talks being suspended.
Earlier this week, Britain announced it would go along with the European Union's position on the issue, and talks reassumed on Wednesday. Switzerland's offer is the introduction of a special protocol aimed at honouring the rights of currently-employed EU citizens in the country, but little mention has been made as regards the positions of future would-be immigrants.