Canada immigration reforms promote new Express Entry visa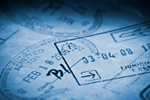 Canada's replacement for its Expression of Interest scheme, the Express Entry system, is expected to by up and running as early as the beginning of 2015.
Mooted as a more flexible, faster and fairer system, Express Entry has been in the immigration pipeline for some two years as part of a reform to the entire system. At a press conference on Tuesday, immigration minister Chris Alexander announced that the new scheme would focus on the country's labour and economic needs.
Alexander promised that processing times for those invited to apply would drop to around six months, adding that employers will have faster access to the skilled workers they need. Immigrants, he said, will be able to settle in faster and with less stress due to the shorter waiting times.
Provincial governments, he said, will identify the skill sets most needed together with local employers, and the criteria will be based on the economic success of migrants as well as that of the economy. Express Entry will be available on four current programmes, Federal Skilled Workers, Federal Skilled Trades, the Provincial Nominee programme and the Canadian Experience Class.
Unlike visas granted under the current Temporary Foreign Worker Programme, those with job offers under the Provincial Nominee programme will be invited to apply for a permanent resident visa. The new system, according to Alexander, will ensure successful applocants a straightforward transition to their new country.