Expats with Thai wives and families still banned from entry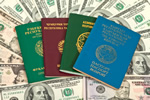 No hope yet for thousands of expats separated from their Thai families and stranded overseas.
Frustration and fury is increasing amongst the thousands of Western expats stranded overseas away from their Thai wives and children. Even although they've been living in the country for many years and have valid visas, they're last in the queue for repatriation and return to their loved ones. The only foreigners allowed to enter the country are those with smart visas, work permits or special permission granted by the Ministry of Foreign Affairs.
The government-imposed ban on all incoming international flights doesn't include military aircraft, emergency landings, repatriation flights for Thai nationals, cargo flights and relief or medical flights. Expats with valid marriage visas aren't being considered at all, nor is there any indication as to when they will be allowed back in. As with many orders by the Junta government, the thoughtlessness of the rule has left couples and their children separated with no idea when they'll be together again.
One South African expatriate married to a Thai and with one daughter took his family on a vacation trip back to the Western Cape region, leaving Thailand on 27th February and with return tickets for 25th March. On their arrival back in Thailand, the expat's Thai wife and daughter were allowed in, but he was denied entry and was forced to return to South Africa even although he was carrying all the required documentation and a long-stay retirement visa.
Facebook groups are now busy with similar tales, including that of a Thai whose fiancée is stuck in Shenzhen with no idea when she can join her future husband. His video, entitled 'Family Comes First', is now on YouTube in the hope his experience will help others to deal with their own situations. He'd spoken with several government agencies about getting his fiancée into the country, but had confusing replies, none of which would have helped.
Another American expat has been separated from his wife and young daughter for five long months and is stating he believes the Thai government must prioritise the reuniting of families as an urgent issue as it's an important human right. As he's in the USA, he's afraid he'll be one of the last to get back due to the size of the outbreak in America.
Several more of those disallowed from entering Thailand are planning to fly to Vietnam, Laos or Cambodia and attempt to cross the Thai land border by any possible means, but immigration police are warning the same rules will apply. According to a Thai government official, bringing back expats is not a priority at the present time, adding there's no clear policy allowing for foreign spouses to reunite wth their families in Thailand.