Expats based in Malaysia are being refused entry due to new rulings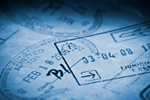 Coronavirus confusion in Malaysia is separating expat spouses from their loved ones.
Malaysia is the latest affected country which is causing grief and chaos in the lives of citizens married to expats. Many couples are now separated and have no idea when they'll be allowed to live together again after the state's coronavirus chaos had forbidden expat spouses from entry or re-entry. The country's previously announced ban on the majority of those wishing to enter only allowed citizens of Malaysia, expats employed in crucial industries and foreign spouses of Malaysian nationals to enter the country for the foreseeable future.
One couple were aware of the new rules before their UK flight left, but weren't sure of the full details and boarded their delayed flight in hope as they'd had time to call their contacts and embassies asking for clarification. Other passengers were in the same situation, but it was only when the British husband was stopped at the immigration gate that they realised they were to be separated, even although his Malaysian wife is pregnant with their first child.
Unbelievably, the reason he was refused entry was that they'd been married for less than six months, even although he was in possession of an employment visa which would have been enough had he not been married. Full rulings for re-entry include 'spouses and children of Malaysian residents' provided they are in possession of a long-term social visit pass and agree to stay in quarantine for 14 days. Other rules announced earlier state entry into the country is only permitted for citizens, permanent residents, foreign spouses of nationals and expats working in essential industries.
Students, expats on temporary work permits, long-term social visit visas and employment visas are being allowed to leave but will be prohibited from returning until the present movement control order is rescinded. Many family members and spouses of expats have taken to social media in the hope of getting advice on how to get their loved ones back into the country.
Strangely, even resident expats on the popular retiree-focused 'Malaysia, my second home' 10-year visas aren't even allowed to return to their properties as the visas don't grant automatic re-entry. Between 2202 and 2018, some 22,000 expats entered via the visa and are now being shut out unless they can find an embassy in a third country prepared to verify their Malaysian addresses. Given that this visa involves a hefty investment in local property, it's no surprise that expats being refused entry are angrily attempting to find an alternative way to get in.