Foreign students subjected to stringent checks by UK universities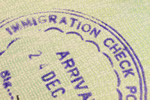 UK universities are popular destinations for degree students from overseas, but many universities are now subjecting them to stringent checks in order to comply with new immigration laws.
An investigation by a House of Lords committee has found that extreme measures are being employed to ensure universities don't fall foul of the new regulations. The Lords Science and Technology Select Committee is now urging that a less paranoid approach should be adopted.
Evidence that students from overseas were being fingerprinted before they were allowed to attend lectures was obtained from the National Union of Students. Other complaints involved international PhD students being forced to travel to far distant campuses in order to have their passports verified.
The committee's report states that university rectors may be afraid of a judgment of non-compliance and the removal of their permission to sponsor students from overseas. The revenue gained by universities from international students forms a considerable proportion of their annual income.
The report recommends the reinstatement of the post-graduate work visa, cancelled three years ago, which allowed foreign students two-year UK work visas after graduation. Nowadays, non-EU graduates from British universities are allowed just four months of paid work before they must leave the country.
Many other Western countries competing in the lucrative overseas student market allow a far longer work experience period, and encourage graduates to stay in the host country. According to the Select Committee's findings, the present law acts as a discouragement, with many international students choosing to study elsewhere as a result.
In 2012, the number of non-EU students choosing UK higher education facilities fell for the first time since records began. The Select Committee's report also stated that the quality, sustainability and provision of Master's courses would fall in proportion to a drop in recruitment, and urged the government to implement a working group to assess the financial impact.