Foreigners and expats condemn Thailand attractions dual pricing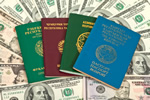 Expats in Thailand are taking to social media to vilify the local practice of charging foreigners far more than locals for visits to tourist attractions such as national parks and historic sites.
For years, foreigners living and working in Thailand as well as those retirees who're married to Thais and have luek kreung children have been charged as much as 10 times the local entrance fees for national parks, tourist attractions and even some temples. The practice has caused years of negative social media comments, none of which have caused the practice to be discontinued.
Now that foreign tourists have been banned from entry to the popular destination, domestic tourism is being hailed as the solution to the loss of literally hundreds of thousands of jobs in the sector and the overcharging of foreign residents has catapulted into both local and international media. In addition, an online movement is ongoing in an effort to change the offensive, often considered racist, practice.
National parks are the major offenders, with expats charged 300 or more baht and Thais just 30 baht, with the practice of writing the local charges in the Thai language also being criticised as a sneaky attempt to conceal the practice. One Facebook group started by a popular expat blogger is telling it like it is as well as stating the practice is drawing unwanted negative attention to Thailand at a time when the country needs all the help it can get.
Nowadays, the majority of foreign visitors to attractions are residents paying tax in the country, all of whom feel they should be treated in the same manner as their Thai counterparts. According to several online articles, a deputy governor for Thailand's tourism authority isn't happy about the practice and has already approached government officials in an attempt to get it banned, saying that now is a good time to reform the practice and make sure foreign visitors are treated in the same manner as are Thai visitors.