Canada visa system threatens another ethnic restaurateur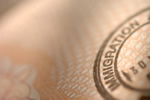 Following the news earlier in the week that a popular Halifax Thai restaurant is losing its head chef to deportation, another immigrant restaurateur can't open his new eatery as he can't get a work permit for an Indian chef.
It seems that chefs from countries with popular authentic cuisines such as India and Thailand are being singled out for harsh treatment by immigration authorities, even although there are no local chefs with the ability to fill their jobs. Previously, the owner of Halifax's Cha Baa Thai restaurant reported she was afraid of losing all her customers as the chef she brought over from Thailand is to be deported due to immigration's delay in processing his visa renewal.
Independent restaurateur Victor Woo's dream is to head up an authentic Indian restaurant in Blowers Street, Halifax centre. He's renovated his space himself, and recently travelled to India to recruit chefs familiar with the art of spicing the authentic dishes correctly.
Sadly, his dream is on hold for now as Canada's Citizenship and Immigration office in New Delhi has blocked work visas for the two chefs he'd chosen, leaving him with a completed restaurant and no-one to cook. According to immigration, the two chefs he'd employed could not 'demonstrate the 'right requirements for the job'.
According to Woo, that's simply garbage and, although neither of the chefs had a first-class education, Woo insists they know exactly how to blend spices and make fabulous, authentic Indian dishes. He's now hired an immigration consultant in an attempt to put down in writing the skills he needs and why his selected chefs have them.
Before Woo was able to start his search for the perfect Indian chefs, he had to get the approval of the federal government and was given six months' permission for his quest. Time's up in April, with the committed restaurateur too sick of bureaucracy to reapply for another six months' quest.