France to launch new student and business visa categories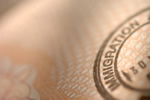 In order to attract more students and business people to its shores, France is offering new, simplified requirements for international student visas and foreign businessmen.
The new visa programmes are expected to boost the economy by encouraging more overseas students through multi-year visas and assist new business start-ups by offering financial support. The moves are also expected to increase investment confidence and bring in more money.
By early next year, the so-called Talent Passports will be launched, making it far easier for investors, researchers and foreign skilled workers from outside the EU to enter France. The 'Passport' will be a four-year, renewable visa which also includes the families of the applicant.
Young, qualified graduates, those with an international reputation in the fields of literature, science, sports and education as well as corporate officers and highly skilled workers will all be able to apply. Multi-year residency visas for international students will be offered, applicants will benefit from grants and assistance with administrative procedures, and those with a masters' degree may get easier access to residency after their graduation
Foreign start-ups will receive project grants of up to 25,000 euros and be able to take advantage of logistic support from the French tech Helpdesk. Simplified tax procedures as well as public funding for selected companies will be introduced, with the programme aimed at attracting foreign investors.