New Zealand urged to aggressively recruit more immigrants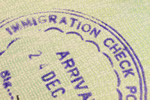 A Kiwi immigration think tank is urging the New Zealand government to actively encourage immigration at a higher level to drive business competition and push up incomes.
The New Zealand Institute of Economic Research (NZIER) is pushing for a more ambitious policy on population in order to raise skills levels and cope with ageing in the present population. Net immigration levels over the last 12 years have averaged at 12,000, against a government target of 40-50,000.
NZEIR is suggesting the target be doubled to 80,000 over the next 10 years, saying that individual GDP could increase by NZ$410 annually, injecting a further NZ$1.8 billion per year into the economy. The think-tank's senior economist, Kirdan Lees, said that the government needed constructive ways of making the country more attractive to skilled immigrants.
Lees is in favour of tweaking the system to attract more skilled professionals, although he agrees that the points-based system is basically the right approach. He believes there's not enough debate about actual population levels and how to increase them over a set period of time.
Increasing the number of skilled immigrants, he added, would drive entrepreneurial competition, bring new skills to the labour marketplace and spur long-term population growth. Firms would expand, as would the domestic market, and the spill-over would boost exports of domestically–manufactured products.