Expats in Dubai urged to register for the annual Camel Trek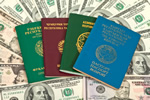 For those expatriate professionals still in Dubai, the annual camel trek is now open for registration.
One of the most amazing opportunities for expats in Dubai is still going ahead this year in spite of the emirate's anti-pandemic rules. The annual Camel Trek is aimed at giving expats a rare glance into the Bedouin lifestyle and the importance to the region of these well-named 'ships of the desert'. Successful applicants will receive full training in looking after these fabulous beasts as well as riding them and living under the stars for two full weeks. Those who've been chosen in previous years describe the experience as life-changing.
Registration for this unique annual experience is at the Hamdan bin Mohammed Heritage Centre and doesn't require applicants to have any knowledge about any aspect of camel lore, as full training is given before the trek begins. Successful applicants will learn how to take care of their dromedary, how to ride the creature successfully and how to maintain their physical balance for the full two weeks of the trek. Mental preparation is also essential, as is getting fully acquainted with the camels themselves.
The aim is to create an atmosphere redolent with past times when Bedouins travelled across the vast desert vistas, navigating by the stars and relying on their camels to arrive safely at their destinations. The trek itself requires serious training as well as a high fitness level, but for those expats lucky enough to be chosen, it's literally the experience of a lifetime.
Perhaps even more importantly, it's a brief but fascinating glance into a traditional way of life which continued for millennia, connecting the Bedouins with nature and forging strong feelings of camaraderie with their tribal companions. Those chosen include expats as well as Emiratis, with last year's trek welcoming nine of each community on the 700-kilometre journey across the UAE's vast expanse of desert lands.