British government policy on immigration hits out at freedom of movement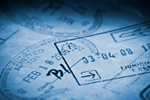 The British government is becoming isolated amongst EU states for its increasingly tough stance on immigration.
Britain's coalition government has hardened its attitudes to the right of freedom of movement across the European Union at the same time as it has toughened up on immigration from other world countries. David Cameron told the press recently that the EU should recognise that immigration is not an unqualified right, but was intended to be for those willing to work and benefit the country.
The government is planning to block migrants from new EU member states, and is cutting back severely on social benefits offered to new arrivals. Recent changes include the disallowing of unemployment benefit for the first three months of residence and the withdrawal of housing benefit.
Although Cameron stated that Germany and the Netherlands are in agreement with the UK's position, the German foreign minister has since denied his support, saying that Germany has benefited tremendously from free movement. The Irish European Minister is also unhappy about Cameron's anti-immigrant stance, as many Irish migrants have left for the UK over the last several years.
At the same time, there is much criticism over the new earnings rules applied to British citizens living overseas and wishing to return to the UK with their foreign wives and children. The result has been the separation of families whilst the breadwinner struggles to find a job paying enough to justify visas for his dependents, difficult in the UK's present economic situation and its high unemployment.