Expats in Seoul excluded from Korean government emergency subsidy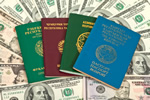 Expats living and working in South Korea may be locked out of the government's covid-19 disaster relief payment.
Many expat professionals living and working in Seoul are angry about not receiving the government's relief fund payment promised to 'all residents in Korea'. The payment was intended to mitigate the effect of the pandemic on South Korea's economy, with qualification as a resident based on the reporting of an address to the recipient's local government office. The payment itself ranges between $329 to $822 and is dependent on the number of people in each household.
After the payment was announced, reports began arriving of expats unable to claim the amount, many of whom now believe there's a loophole in the lists of those eligible. According to one local office, the criteria which governs the payment isn't determined at local level but is set by the central government. More enquiries elicited a response that only foreign children of a marriage between a Korean citizen and an expat as well as refugees and international marriage migrants were entitled to the payment.
It seems that, should all expats living in South Korea had been included for disaster relief, local offices without interpreters might well be overrun by foreigners demanding their payment, thus causing huge confusion as regards the scheme's administrative process. However, on June 11, Korea's Human Rights Commission said it had advised the city's mayor to pay all foreigners who'd registered their addresses as requested.
It's not known what will happen now, but expat professionals in Seoul are up in arms about the situation, calling it prejudicial and even racist. The ball is now in the mayor's court as to whether the expat community gets its payment or is given yet another reason for its denial.