Aussie psychotherapist wrongly refused UK long-stay visa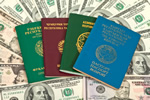 London-based psychotherapist Mariam Miller, originally from Australia, was told she had 28 days to leave the UK, judged on the wrong criteria for her situation.
Miller arrived in the UK with her Italian husband in 2005, after some years in Europe. Within six months she'd sold her home in Italy and bought a house in London, having started her new job a few days after her arrival. Two years later, her husband returned to Italy to live and, when the marriage failed as a result, Miller contacted the UK Border Office regarding her immigration status.
The immigration office agreed her situation fell under the 'three plus one' rule – she had lived in the UK for over one year and had been married for more than three years. An official assured her she had a right to stay, and confirmed the decision by letter.
Five years on, she applied for leave to remain, but received a letter saying she should reapply under the discretionary category due to rule changes. She sent her documentation, passport and original Home Office letter, but heard nothing for 18 months.
Without her passport, she could not visit her 80-year old mother, nor register to study for her second masters' degree.The shock came when a letter finally arrived saying she had been refused leave to stay as she was an Australian citizen.
Her immigration status was as an EEA nationals' spouse, but when her solicitor pointed this out to immigration, she was given 28 days to leave. Worse still, when she told her boss, he immediately sacked her and had her escorted off the premises where she had worked for nine years.
Her story went live on social media, resulting in her case being placed under review on 28 November. Miller has heard nothing to date, and is being threatened with detention should she not leave, in spite of being told proceedings against her had been halted pending the review.