US warns prospective migrants over immigration reform measures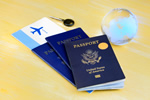 In a statement mainly aimed at cross-border immigration in the south, US official have warned would-be migrants that any immigration reform measures will not apply to them.
The bill passed by the US Senate and yet to be cleared by the House of Representatives stated that its proposed path to citizenship would only apply to illegals who entered the country prior to 30 December 2011. The Department of Homeland Security believes that smugglers working across the Mexican border are drumming up business by encouraging people to cross before the bill is passed.
Speaking at a news conference, Alan Bersin of the DHS said it's important that would-be migrants aren't taken in by false promises and arrive expecting to be covered by the new law if it's passed. Bersin added that, in spite of rumours to the contrary, no increase in illegal arrivals had yet been noted.
Fees charged by the smugglers have soared recently, and now stand between $3,000 and $10,000 for the migrants from Central America who constitute three-quarters of those attempting illegal entry from Mexico. Although it's now virtually impossible to make the trip without the help of the smuggler gangs, the US border authorities have noted an increase in the number of unaccompanied children attempting to cross.