Expats in Thailand start petition for immigration reform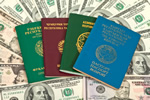 Expats in Thailand have started a petition urging reform of the dreaded Article 37 reporting law.
It's been a rough year for expats working, living or retiring in the former Land of Smiles, with retirement visa changes and the enforcement of several other laws including Article 37. This rule is intended to keep track of foreigners in the Kingdom by forcing them to report to immigration after staying overnight in any place apart from their registered home address. Originally, the onus of reporting within 24 hours was on the owners of the property in which a foreigner had been staying, but most owners either ignored or forgot the rule. Hotels, of course, were used to reporting foreign arrivals as a part of the process, but guest houses and smaller players in the hospitality game rarely bothered, leaving the onus to fall on the expats themselves.
Expats living, working and travelling in Thailand along with those enjoying the occasional weekend away from home weren't best pleased to find Article 37 reporting was now their responsibility, even if they'd simply stayed in the next town for one night. Those on regular business trips to overseas countries were even less pleased, as heading for the local immigration office immediately they returned home was a major drag. Those weekending in other provinces or taking a one-night shopping trip to Bangkok are also affected. Pensioners leaving hospitals after a one or two-night stay and feeling groggy as a result are still expected to turn up at immigration to let officials know they're back home.
Once the bad news got out, online forums were crammed with upset, angry expatriates expressing their wish that the government would just let them get on with their legitimate lives and concentrate on expats who're actually posing a threat to Thailand rather than those who're supporting its economy including local businesses. A previous immigration chief used the slogan 'good guys in, bad guys out' to publicise efforts to get rid of undesirable foreigners in all fields, but the good guys are getting the heat together with those who really need to be thrown out. As a result, the changes are causing many, especially pensioners, to find another home elsewhere in the world.
Uncertainty about expats' futures in Thailand is also causing grief amongst those who've married Thais and now have families of their own. As a result, a petition has been started by a group of expats and their lawyers, with the aim of urging the Thai government to consider reforming certain immigration laws including Article 37. Expats are being urged to sign up in the hope that a solution can be found.