Oz to bar new migrants from settling in Melbourne and Sydney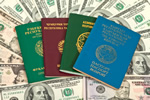 If you're thinking about emigrating to Australia, forget about Melbourne or Sydney as your home town.
Unless you're reassigned to Oz by your company or have family in the country, you're about to be barred from settling in Sydney or Melbourne. Australia's new plan to alleviate pressure on the two cities' healthcare, schools, public transport and housing will see new migrants 'assigned' to various other Australian towns and small cities. The rule is to be rolled out in the new year, and is also expected to be aimed at solving skills shortages and population stagnation in less popular regions.
Following the government's recent push to popularise regional visas, it seems a good number of takers for the special visas gave up and moved to large cities within 18 months of arrival. Australia's net migration numbers make up 60 per cent of the overall national population growth, but account for 84 per cent of Sydney's population growth. In 2017, some 112,000 skilled expats settled in Sydney and Melbourne, while only 10 per cent of the total number of migration visas were granted under the Skilled Region and RSMS programmes. In addition to being barred from Australia's two major cities, the new visas will also stipulate that at least five years' regional residence will be required before migrants are allowed to relocated to large cities.
Although at present it's not clear exactly which regions will be listed, Canberra, Darwin and Adelaide are considered to be regional areas and opposition to the plan is already being heard, stating it will hit hard on already high unemployment in a majority of regions. Some 25 per cent of total migration numbers represent employer-sponsored relocations to Australia for positions unable to be filled by Australian workers, with concerns arising that the new rule may jeopardise the growth of sponsoring businesses. For individual would-be migrants hoping to start a business in, for example, the tech sector, the rule may mean the end of the dream.