Indonesia's latest immigration fee hikes may cause expat distress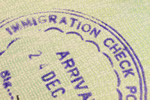 Indonesia's immigration fees update may come as a shock for disorganised expats.
Indonesia is now a preferred destination for adventurous expats looking to live the life of their dreams, but the country's regular immigration fee hike may well put an end to the dream for less than organised expatriates. Every three years, the Indonesian government decides it's time to increase its revenue from immigration, but this year's list contains a shock for careless expats on overstay, as the fine has been hiked to an amazing Rp one million per day!
The increase in the overstay fine from Rp300,000 to a horrifying Rp one million per day is likely to cause chaos in the traditionally laid-back expat community. Worse still, as Indonesian Immigration counts in both the day of arrival and the day of departure, even a simple booking error may lead to financial chaos, and the thought of a delayed or cancelled flight could cause expat panic. As the maximum number of overstay days penalty allowed to be given is 60 days, overstayers will need to stump up an incredible Rp 60 million. The only get-out is to overstay for a longer period, thus avoiding the fine but getting deported and black-listed from the country.
Other visa fees have also been raised, starting with the charge for an extension to the Social Cultural visa, now rated at Rp500,000, up from Rp300,000. A visa on arrival is also now Rp500,000, and a multiple entry visas is now $110. Visit visa extensions are also mostly fixed at Rp500,000 for a further 30-day stay and Rp 750,000 for 60 days. For expats who're determined to become Indonesian citizens, naturalisation by marriage will set them back some 5 million IDRs, and naturalisation by request comes in at 50 million IDRs. Bali may be beautiful, but it is really worth the hassle?