UK government urged to intervene on Malta Golden passport scheme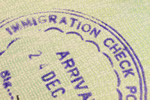 Malta's new 'Golden Passport' scheme which allows investors to purchase passports for £650,000 is under fire from Labour Party shadow ministers.
The controversial scheme, recently passed through the Maltese parliament, aims to attract wealthy non EU citizen investors, but its critics say it will be used as a back-door entry passport to EU citizen privileges. A meeting between the Maltese prime minister and David Cameron has already resulted in confidentiality for purchasers of the passport being revoked.
More criticism is being aimed at the plan for its lack of insistence that a defined investment is stated, and some are saying it's simply just too cheap. The Maltese government has estimated it will raise some £30 million next year, with 50 per cent of the estimated sum already earmarked for the still running 2013 budget.
An article in the Financial Times claims that the UK fears its own, more expensive, investor visa programme will be affected, adding that various EU politicians are seeing it as a threat to national security as it gives a safe haven from the unravelling Arab Spring. Chinese investors are also seen as posing a risk.
None of the protests are making any difference to the high-net worth individuals queuing up for the start of the programme. Applications are being readied for submission against the fear that the numbers will be capped.