Second passports now accessory of choice for wealthy expats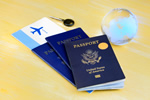 Why are second passports now the accessory of choice and how to get one.
There are many motivations for acquiring a second passport, from the wish to make world travelling less stressful through getting more legal rights and avoiding issues with customs officials to taking advantage of greater freedom and lower taxes in the chosen second country. The issuance of a scheme which, quite simply, allowed foreigners to buy citizenship of another country has caused controversy since its inception, especially amongst travellers who can't quite afford this modern day luxury.
For US citizens, there have been concerns that a second passport invalidated American citizenship but, since this rumour was quashed, demand has soared since 2016, especially from those wishing to enter the USA without revealing their true nationality. Frequent travellers for whatever reason are now finding their second passports an essential business tool for hassle-free cross-border journeys and visa-free entries to restricted states. The legal right to a second passport and its dual citizenship is actually available to everyone, provided they've the cash to purchase economic citizenship.
Those putting money into government coffers, investing in local real estate or starting businesses are welcomed by jurisdictions such as Malta, Cyprus, the Dominican Republic, Portugal and many more countries. Two of the fastest ways to become a dual citizen involve Panama and Uruguay, both of which are inexpensive and fast as regards check-ups and verification processes. Panama's pensionado law welcomes expat retirees, granting them immediate residence followed by citizenship in exchange for investment which creates new jobs. The country's banking system is considered safe, its government is apparently stable and its economy is fast-growing and strong.