Australia to attract more young people from Europe on working holidays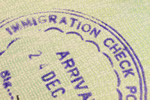 In spite of the ongoing rows over entry-level jobs for locals, Australia is planning to encourage young people from high-unemployment European countries to apply for working holiday visas.
Struggling European nations with high youth unemployment and ongoing economic problems will be targeted in a new push to increase the number of working holiday visas issued. The Immigration Department is to launch negotiations on visa arrangements with Greece, Spain and Portugal as well as 10 other countries.
Australia's working holiday programme allows those between 18 and 30 to work for specified periods of time, and often leads to visa-holders deciding to stay after a permanent job offer has been made. Trade union leaders are up in arms, saying that the scheme is taking jobs away from local young people, a view which is supported by a number of immigration experts.
Immigration's recently released annual report states that the mining, construction, agricultural and tourism industries are benefitting from the programme, and that for every 100 young arrivals, six full-time jobs are created, representing a total of 16,000 full-time positions. Other states in negotiation with the Australian government include Vietnam, Hungary, the Czech Republic, Poland, Latvia, Mexico and Slovakia.
The working holiday programme is already the largest such in the world, with 260,000 visas granted in 2012-13. Immigration authorities expect the figure to increase considerably after negotiations with the 13 new countries are concluded.