Kiwi immigration webcast hits the spot with Brit construction workers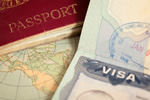 The innovative webcast featuring the Christchurch rebuild was broadcast live on 25 August directly from New Zealand and was deliberately aimed at British engineers and construction workers.
Christchurch's ongoing Tale of Two Cities followed the devastating February 2011 earthquake which destroyed the city centre, destabilised the surrounding districts and killed 185 people. The rebuild is now gaining momentum, but experienced civil engineers and construction workers are in short supply on South Island.
The webcast was the first in a new approach to encouraging skilled migrants and was aimed at workers with the necessary skills who had formerly expressed an interest in immigrating to New Zealand. Just 44 job vacancies were featured and, to the amazement of the organisers, almost 1,000 visa applications have flooded in.
The UK accounted for the majority of respondents, with skilled workers from the US, Canada, Spain, India, South Africa and even Qatar joining in the rush. Almost 75 per cent of those who'd viewed the webcast said later they were more likely to make the move to Christchurch.
Spokeswoman for the organisers Jenny Groutage was thrilled with the result, saying that over the coming weeks respondents' CVs will be tracked to calculate the number of job offers received as a result of the webcast. She's hoping for a real result which proves the podcast's success.
One Briton already settled in the country told the media that he'd recommend moving to Christchurch and helping with the rebuild. Scott Tansley left the Midlands for New Zealand in 2011, has worked with the Earthquake Recovery Authority, and now loves his and his family's new life in Wellington.